Commencement Attire
Registrar's Office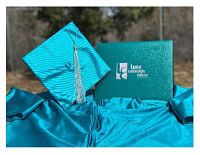 Caps, Gowns & Announcements
Academic regalia is required in order to participate in the college's commencement ceremony. Regalia can be purchased through the LCC Bookstore and may not be altered, modified, or decorated in any way. Rental of cap and gown is not available. All cap and gowns must be purchased. Deadline for regalia orders for all students is March 30, 2018.
Commencement Photographs
GradImages is the official commencement photographer for our school. Your proofs will be ready to view online as soon as 48 hours after the ceremony. In order to notify you when your images are available, GradImages sends emails and mails paper proofs, along with optional text message notifications.
Your information is never shared and privacy is guaranteed. Pre-registering is simply a way to make sure your contact information is up-to-date with GradImages, so they can provide your complimentary proofs as quickly as possible. Although there's never any obligation to order, you'll save 20% off orders of $50 or more for your participation.
To pre-register for your commencement proofs, please visit
www.gradimages.com/Preregistration

Students Receiving Honors
The Office of the Registrar will contact each student via LCC student email if they are eligible to receive graduation honors by the end of March 2018 via the LCC student email system.
Graduation honors is based on the last semester of completed coursework at LCC utilizing the students cumulative GPA. There will be no exceptions to this policy. For more information you may review the policy listed in the current college catalog on page 35.2015-2018 Catalog (exceptions are not made to institutional policy)
Students graduating with honors will purchase an honor cord with their regalia at the time of their purchase with the LCC Bookstore. The LCC Bookstore will have a list of students eligible to purchase an honor cord. Graduating students who are active members of LCC's Phi Theta Kappa Honor Society may contact the Phi Theta Kappa office to order your honor stole to be worn with your cap and gown at the Commencement Exercises.
Eligibility for Phi Theta Kappa is not determined by the Office of the Registrar, questions regarding this should be directed to the Phi Theta Kappa advisor.
For more information, please contact the LCC main campus Bookstore at 505.454.2569, or rduran@luna.edu.