Commencement Information for Guests
Registrar's Office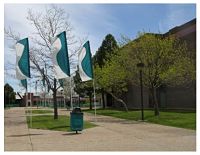 Family, friends, and community members are invited to attend the colleges' Commencement Ceremony on Saturday, May 12, 2018, 10 am, Luna Main Campus.
If you have accessibility needs, please contact the office of the Registrar at registrar@luna.edu or 505-454-2548.
Ceremony Guidelines
Cooperation Requested
The audience may not enter the graduate-seating or stage area at any time during the program. All guests are asked to remain behind the roped areas. Family members and guests are asked to remain in their seats, relax and enjoy the ceremony. At the end of the ceremony graduates will be lead out of the Ceremony area to the outdoor area where they can meet with family and friends. We ask all attendees to be patient and cooperate with ushers and Campus Security during this time.
Parking
You can park in the Media Arts parking lot, shown here: Map to LCC Media Arts parking lot